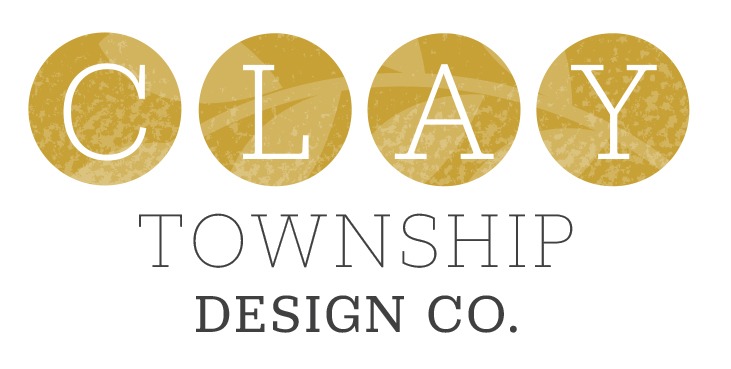 LET'S WORK TOGETHER
Clay Township Design can help you develop your brand and place your image on everything from business cards to billboards. Let's see what kind of plan we can hatch – whether it's a tiny one-time job or a more comprehensive project. Looking forward to our visit!
LOGO DESIGN
If you plan to launch a new small business or if your existing logo needs a redesign, the creation of a logo will give your brand a strong visual identity. A good logo doesn't need to be complex, but it needs to tell your story!
BRAND IDENTITY
A brand is more than a logo. It consists of other elements, such as: fonts, colors, pattern, texture, photos, illustration, layout. Simply put, it is the way your message is delivered that is visually appealing, but purely authentic.
COLLATERAL
Collateral consists of business cards, letterhead, stationery, brochures, fliers, postcards, direct mail pieces, promotional products, wearables – anything you need to support your business. Let's do this!
AD DESIGN
When you are ready to launch your ad campaign, it's time for some print or digital ads, web banners, or social media images. It's good business to make everything consistent to build a strong marketing presence.
EVENT GRAPHICS
Maybe you are planning an event – a party, wedding or fundraiser. You will need something awesome to get the word out. Whether it is print or digital, I can make your event proclamation one to keep forever!
PHOTO ENHANCEMENTS
Great photos are everywhere. But they can go from great to amazing. Perhaps a color correction, or the addition of text, or a new background, or an artistic touch is all it takes.
LARGE FORMAT
How big do you need to go? Whether you need a business sign, a street banner, a trade show booth, a vehicle wrap, a billboard, or graphics for your hot air balloon, together we can get this done. Go big or go home!
CUSTOM PUBLICATIONS
Do you need a newsletter or an annual report? You could settle for mundane – or we can snazz it up with photos, fonts, icons or graphics that will make it shine – and still be fully professional.
Contact Me With Your Graphic Design Needs or Questions.
Free Consultation.
Free Quoting.